Quantity discount: from 3 bottles, only 24,00 € per bottle* (12,00 €/100 ml)
You save a total of 9 €.
* The discount is displayed in your shopping cart.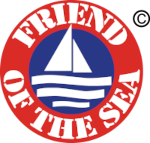 Beneficial for heart, vision and brain
Natural wild-caught fish oil from sustainable fisheries
2,000 mg of omega-3 per daily dose (1 tablespoon)
High EPA content
100% natural – not concentrated
Cold-pressed organic olive oil as antioxidant
Vitamine D3 (800 IU)
Pleasant taste: lemon or plain flavour
Cleared of pollutants, PCBs and heavy metals
2,000 mg omega-3 in a tablespoon
Omega-3 Total (200 ml) is a unique combination of a high-EPA natural fish oil and an extra virgin olive oil from organic farming (antioxidant). A daily dose (8 ml, about 1 tablespoon) provides 2,000 mg of omega-3 fatty acids (EPA and DHA).
The recommended dose of 2 g omega-3 has proved effective in regulating an insufficient level of omega-3 in the body, which can be evinced via measuring the omega-3 index.
Natural Rich in omega-3 fatty acids
The fish oil stems from wild and sustainable fishing. The fish oil is not derived as a by-product, but directly from the entire fish. Small fish such as sardines, mackerel and anchovies are caught in the wild. Fishing is carried out according to strict guidelines for sustainable fishery and is certified by the famous "Friends of the Sea" label. The fish oil is cleaned of pollutants and PCBs and controlled according to strict Norwegian regulations.
Entirely natural and no use of concentrates
Natural fish oil consists of a complex of more than 50 fatty acids. During the extraction and purification of the fish oil, the natural structure of the fatty acids is preserved. This is important since only consuming such a natural fatty acid structure could be equevalent to eating fish. NORSAN explicitily does use any concentrates, where the natural fish oil complex is chemically destroyed and thereafter reconstructed with an artificially high omega-3 concentration.
Unique 3-step cleaning with micro destillation
An effective cleaning should ensure that the fish oil is free of pollutants. Typically this is achieved in a two step cleaning process. For the fish oil in our NORSAN Omega-3 Total, we use a modern and unique 3-step method, which also includes the costly process of micro-destillation. As a result, we can offer the best and cleanest quality.
Read more about the manufacturing process and raw materials.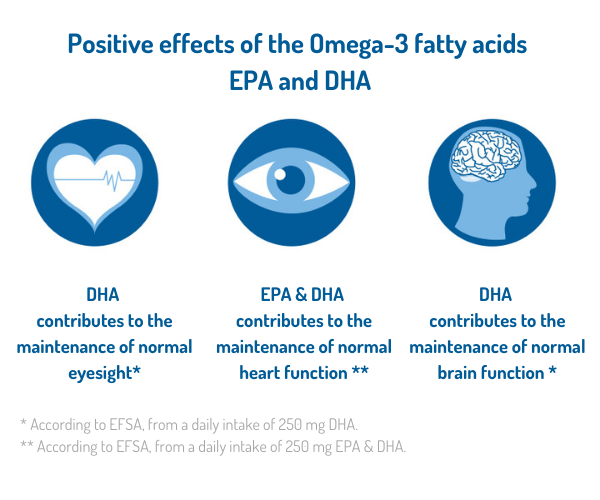 Why linseed oil alone is not enough
EPA and DHA are present in marine sources such as fish, algae and krill. Most omega-3 vegetable oils, such as linseed oil and chia oils, do only contain the vegetable omega-3 fatty acid ALA (alpha linolenic acid) and no EPA and DHA.
Among vegetable oils, linseed oil, for example, contains particularly high levels of ALA. Nuts and chia seeds also contain ALA. It is important to know that ALA can only be converted to the important marine omega-3 fatty acids EPA and DHA to a limited extent. The conversion factor is only 0.5-10% and is highly dependent on weight, metabolism and other factors. Scientific studies are broadly aligned in the conclusion that intake of ALA alone cannot regulate an deficit in EPA and DHA.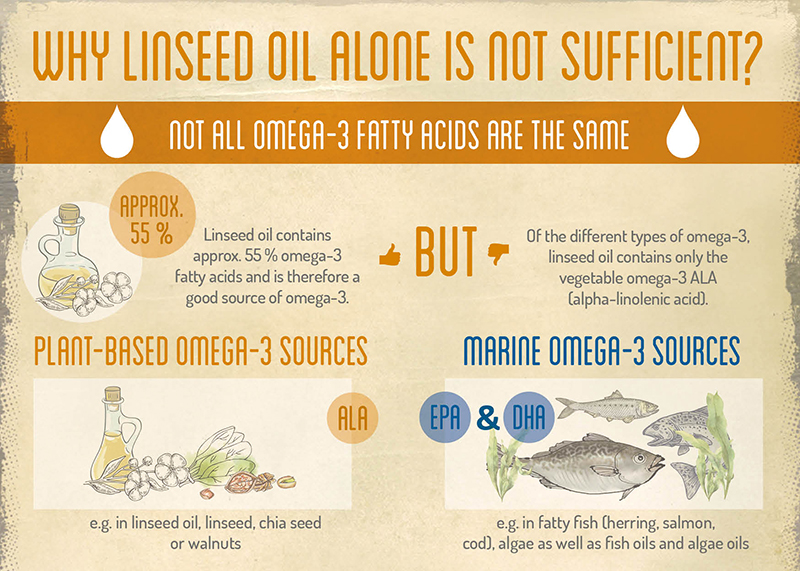 Organic olive oil as an antioxidant
The olives are supplied by Rafael, our olive grower, who works according to ecological guidelines. We regularly do on-site visits, not only because it is a beautiful place, but to ensure close relationship and best quality.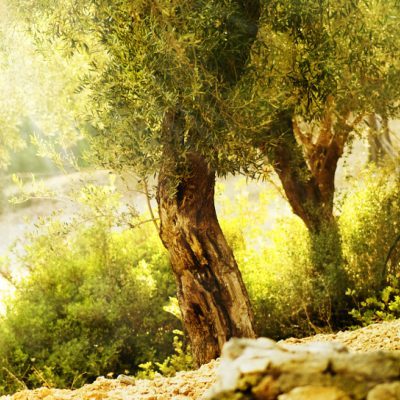 Omega-3s are particularly "sensitive" and can be easily destroyed. They must therefore be "protected" not only before consumption but also in the body once consumed. This is why our Omega-3 Total oil contains 25% of an organic extra virgin olive oil that acts as a natural and powerful antioxidant. Our olive oil has been specially selected for its powerful antioxidant components.
We use an organic extra virgin olive oil with a high content of polyphenols, known for their antioxidant properties. It is the polyphenol content of the olive oil that protects the omega-3 fatty acids from oxidation. A unique characteristic of an olive oil rich in polyphenols is that it causes a slight tingling sensation in the throat when you swallow it.
It is our unique and careful treatment process that guarantees the exceptional quality and freshness of our fish oil. The freshness of the oil is essential to guarantee a pleasant taste and smell. A few drops of natural lemon oil add an extra touch to the pleasant taste.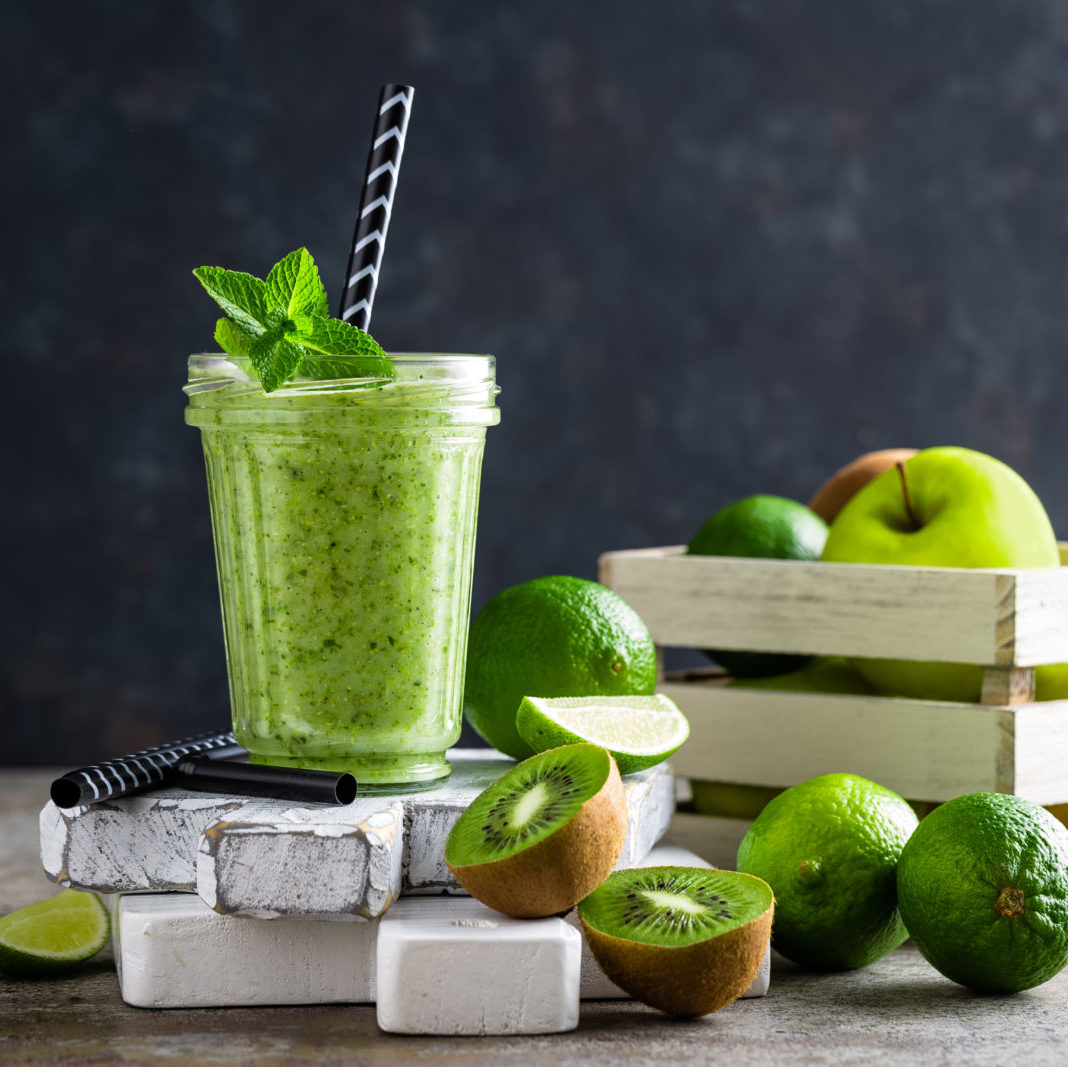 The NORSAN Omega-3 Total Oil has a pleasant taste and one tablespoon together with the breakfast can easily be integrated into the daily routine. The intake does not lead to unpleasant reflux and spillage. Fresh (with low oxidation levels) fish oil smells good and has a pleasant taste.
Advice for use:
Instead of taking the oil "pure", mix it in a smoothie or add it as topping on your salat or other cold food.
COMPOSITION AND NUTRITIONAL INFORMATION
Ingredients
Natural fish oil, olive oil, cholecalciferol (vitamin D), mixed tocopherols (vitamin E). The Omega-3 Total with lemon taste contains a few drops of natural lemon oil.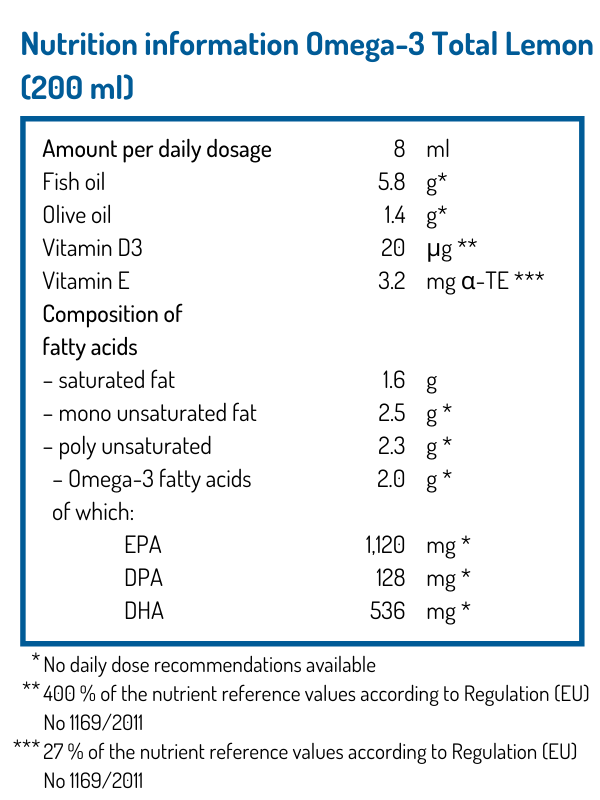 Storage
Unopened products must be stored away from direct sunlight and in a cool, dry place. Crystals may form at temperatures below 4°C. These crystals dissolve after a few minutes at room temperature. It is recommended to shake the bottle briefly before use. Keep out of the reach of small children. After opening, the bottle should be stored in the refrigerator and consumed within 45 days. Food supplements are not a substitute for a varied and balanced diet and a healthy lifestyle.
Intake
The recommended daily dose is 8ml, which corresponds to approx. 1 tablespoon. For best absorption in the body, it is recommended to take the oil in conjunction with (or just after) a meal. With the recommended dose, the bottle last for 25 days. The recommended daily intake should not be exceeded unless otherwise prescribed by your doctor.
Taste
The quality of the raw materials and the unique refinement of the fish oil give NORSAN Omega-3 Total its pleasant taste. A few drops of natural lemon oil add an extra lemon touch (product also available withouth lemon oil). The oil is particularly "fresh" which is reflected in the good taste. The "freshness" is among others measured in a low value of total oxidation (TOTOX) of the oil. The high quality of the raw materials and the unique 3-steps processing and purification process, includes also micro-destillation, guarantees the exceptional quality of NORSAN fish oil. For the end consumer this has the advantage that it avoids unpleasant refluxes and returns. The benefit for the consumer is that there are no unpleasant refluxes.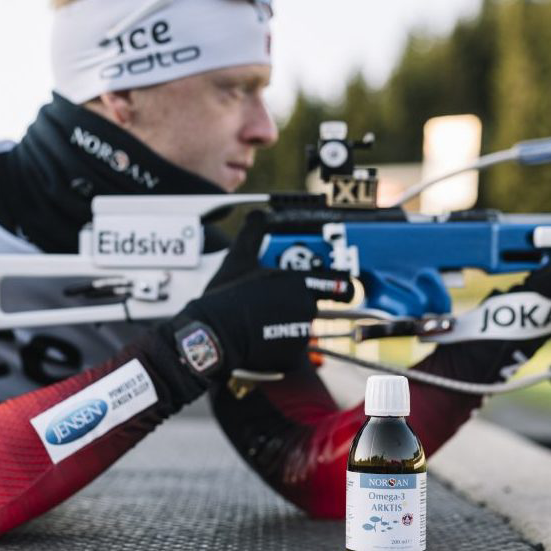 "On our breakfast table there is always a bottle of NORSAN and everyone takes a tablespoon"