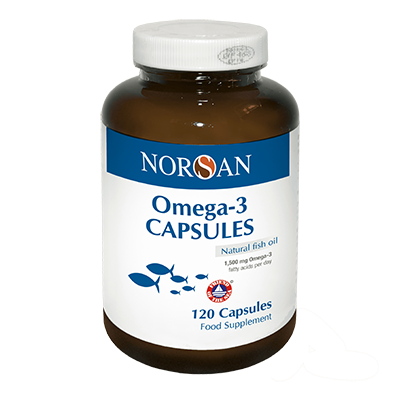 Quantity discount: from 3 bottles, only 26,00 € per bottle* (14,02 €/100 g)
You save a total of 9 €.
* The discount is displayed in your shopping cart.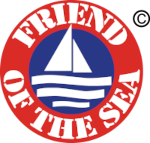 Beneficial for heart, vision and brain
Natural wild-caught fish oil from sustainable fisheries
1.500 mg of omega-3 per daily dose (6 capsules)
High EPA content
No reflux
Cleared of pollutants, PCBs and heavy metals
Rosemary extract as an antioxidant
Perfect when travelling
1.500 mg of omega-3 per daily dose
NORSAN Omega-3 Total capsules contain a natural fish oil with high omega-3 content. It provides a daily dose of 1,500 mg omega-3 (6 capsules).
With it high dosage, Omega-3 Total capsules is a good alternative to the oil in fluid form. It is perfect for those not wanting to take pure liquid oil or for those who travel.
Natural Rich in omega-3 fatty acids
The fish oil stems from wild and sustainable fishing. The fish oil is not derived as a by-product, but directly from the entire fish. Small fish such as sardines, mackerel and anchovies are caught in the wild. Fishing is carried out according to strict guidelines for sustainable fishery and is certified by the famous "Friends of the Sea" label. The fish oil is cleaned of pollutants and PCBs and controlled according to strict Norwegian regulations.
Entirely natural and no use of concentrates
Natural fish oil consists of a complex of more than 50 fatty acids. During the extraction and purification of the fish oil, the natural structure of the fatty acids is preserved. This is important since only consuming such a natural fatty acid structure could be equevalent to eating fish. NORSAN explicitily does use any concentrates, where the natural fish oil complex is chemically destroyed and thereafter reconstructed with an artificially high omega-3 concentration.
Unique 3-step cleaning with micro destillation
An effective cleaning should ensure that the fish oil is free of pollutants. Typically this is achieved in a two step cleaning process. For the fish oil in our NORSAN Omega-3 Total, we use a modern and unique 3-step method, which also includes the costly process of micro-destillation. As a result, we can offer the best and cleanest quality.
Read more about the manufacturing process and raw materials.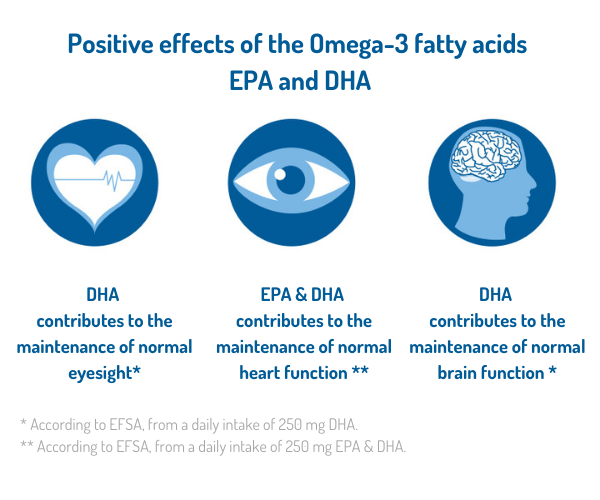 Why linseed oil alone is not enough
EPA and DHA are present in marine sources such as fish, algae and krill. Most omega-3 vegetable oils, such as linseed oil and chia oils, do only contain the vegetable omega-3 fatty acid ALA (alpha linolenic acid) and no EPA and DHA.
Among vegetable oils, linseed oil, for example, contains particularly high levels of ALA. Nuts and chia seeds also contain ALA. It is important to know that ALA can only be converted to the important marine omega-3 fatty acids EPA and DHA to a limited extent. The conversion factor is only 0.5-10% and is highly dependent on weight, metabolism and other factors. Scientific studies are broadly aligned in the conclusion that intake of ALA alone cannot regulate an deficit in EPA and DHA.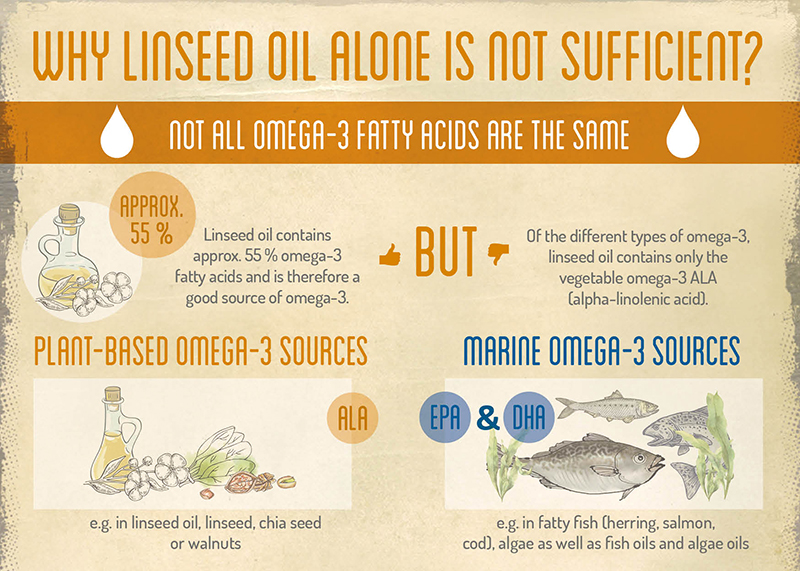 SHOULD I TAKE OMEGA-3 CAPSULES OR OIL?
At NORSAN, we are convinced that nature has planned everything about the composition of nutrients and foods, and that natural and unmodified foods are therefore better assimilated by the body. That is why NORSAN fish oil is a natural oil and we do not chemically process it to concentrate it.

The choice between Omega-3 Capsules and the liquid version of fish oil is a matter of taste. On the one hand, the capsules are easier to carry when traveling and are more suitable for people who do not like to consume pure oil. On the other hand, liquid fish oil is more convenient to integrate into everyday life because it can simply be added to food like normal oil and it tastes so good that it can also be consumed pure without any problems. Another aspect is the price difference – the capsules are more expensive in the manufacturing process due to the extra work step required, the production of the capsules, which has an effect on the final price. Thus, the alternative product to liquid oil is more expensive than oil in its original form.
We recommend that you choose according to your personal tastes and feelings. Both products are an optimal source of omega-3 fatty acids and are made from natural wild fish oil from sustainable fishing. If you are still hesitating or if you would like more information about our products, you can contact us by phone (030 555 788 990) or send us an e-mail (post@norsan-omega.com). We will be happy to provide you with information and advice.
COMPOSITION AND NUTRITIONAL INFORMATION
Ingredients
Fish oil (70.8%); gelatine; humectant: glycerol; antioxidant: rosemary extract; vitamin E (mixed tocopherols). Dietary supplement containing mono- and polyunsaturated fatty acids as well as vitamin E.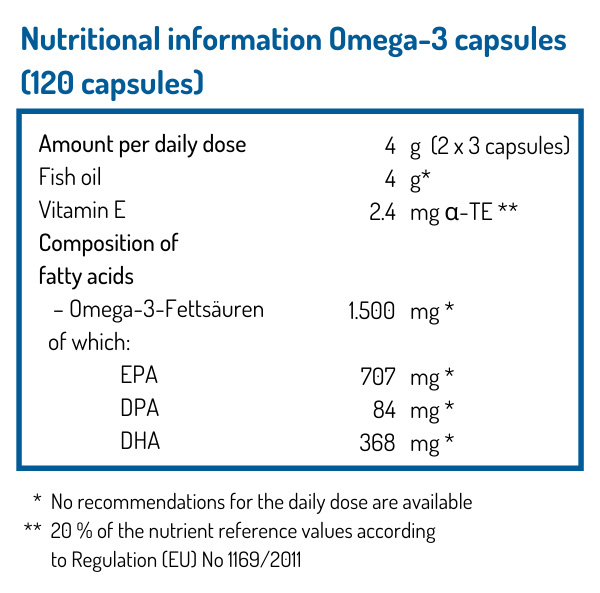 Storage
Unopened products should be stored away from direct sunlight and at a stable room or cellar temperature. Keep out of reach of small children. Do not exceed the recommended daily dose.
Intake
6 capsules per day during or after a meal. A daily dose contains 1,500 mg of omega-3 fatty acids, including 856 mg of EPA and 368 mg of DHA.
No unpleasant reflux
It is the high quality of the raw materials that avoids unpleasant reflux and discharge after the ingestion of Omega-3 Capsules. What is important is the freshness of the oil. The maximum time between catching the fish and processing is only 4 hours. The unique and meticulous processing and purification process guarantees the exceptional quality of NORSAN fish oil. This process avoids unpleasant refluxes and returns.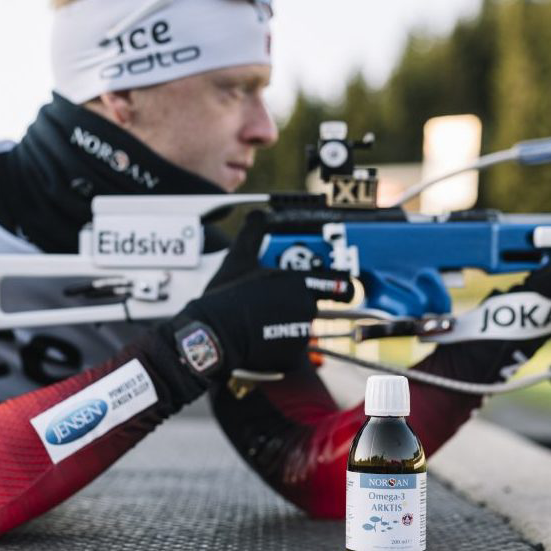 "On our breakfast table there is always a bottle of NORSAN and everyone takes a tablespoon"